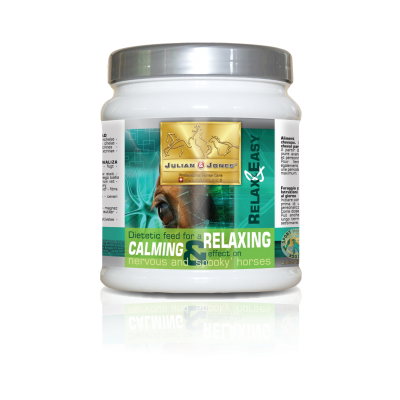 Helps to support nervous and "spooky" horses in stressful situations.
RELAX & EASY limits stress and its negative repercussions on the horse's body whilst not making the horse unresponsive and thereby not affecting sport performances.
Carefully formulated, RELAX & EASY is a combination of plants and elements that are essential for the nervous system. It provides all the nutrients that are used in large amounts by the anxious horse: vitamins B1 and B6, magnesium and tryptophan help nervous cells to work effectively and harmoniously.
Application : It can help to support nervous and "spooky" horses in stressful situations such as training sessions, transport, shows, events ... It is very difficult to determine an overall dose for a calming product. We recommend gradual testing for the correct dose for your horse. In extreme case, a combination of Mood Control and Relax&Easy should be foreseen.
Directions for use :
Adult horse: We advise a starting dose of 45g / 1.59 oz per day at least 2 - 3 days before an expected stressful situation, mixed with the daily feed ration.
Following by 10 days 30 g / 1.06 oz per day. Reduce gradually to the maintenance dose of 15 g / 0.53 oz per day.
Pony, foals: half the horse dose.
Maximum daily dose : 45 g per pony and 50 g per adult horse
Contraindications : It is recommended to seek the advice of a veterinarian before extended use, especially in case of gestation and lactation
Packaging : 500 g (Medium) or 1.200 g (Large). Store in a dry place at room temperature and close lide after every use.
1 pot of 500 g will last approximately 20 days.