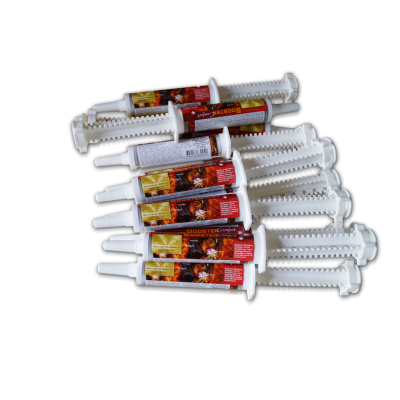 For horses that could do with some more energy, while remaining fully controllable.
Superhorze BOOSTER Comfort is formulated to provide the horse with an extra energy boost and important nutrients before and during strenuous efforts.
Muscles -- Power -- Endurance -- Comfort
Thanks to the presence of easily and rapidly absorbed and high-grade nutrients such as amino acids, unsaturated fatty acids, vitamins, electrolytes, sugars, salts and aromatic plant extracts, the horse's body gets energy, strength, flexibility without losing the control of the temperament!
Musculoskeletal or spinal discomfort will be soothed. 

The results are quickly noticeable.
Directions for use

The effect will be increased if SUPERHORZE Booster is taken outside of meal time.
1 dose = 10 ml paste per 300 kg live weight of the horse.
Evening before the competition: 1 dose and
2-3 hours before competition: 1 dose.
Maximum daily dose: 40 ml paste per 300 kg live weight of the horse
PACKAGING
1 syringe 25 ml/0,88 fl oz. Sold individually.