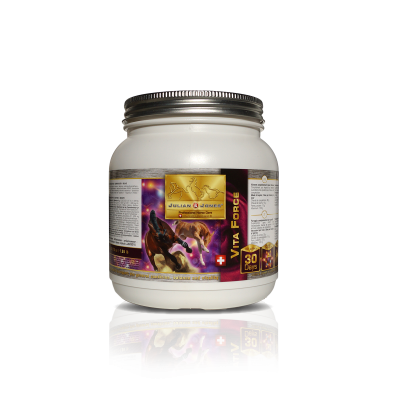 Food supplement containing MSM, yeasts, minerals, trace éléments, fatty acids and amino acids, to improve the overall condition, body balance and vitality.
VITA FORCE contains calcium and phosphorus at adapted levels as well as key vitamins, minerals and readily assimilated trace elements only in the purest-quality and highest bioavailability to support the overall development to optimize strong bones, joints and muscles that are harmoniously formed. Living yeast cultures and psyllium husks both positively influencing digestion and nutrient absorption. The amino acids lysine, methionine, vitamin C, vitamin-B-complex, iron and L-Carnitine play an important role in energy metabolism: it contributes to improve endurance and recovery after heavy efforts.
Application : Mixed in the usual daily diet it helps support: digestion, immunity, endurance, recovery, gestation and lactation. Is suitable for senior horses, foals, young horses, stallions, sport horses.
Directions for use : Sport horse, mare in gestation/lactation, stallion: 30 g / 1.06 oz per day. Pony, leisure horse, foal: 15 g / 0.53 oz per day. It can be administered for longer periodx of time. Maximum daily dose : 50 g / 1.76 oz per day per pony and 100 g / 3.53 oz per adult horse per day.
Contraindications : no known contraindications.
Packaging : 900 gr. (Also available in 2.1 kg packaging)
1 pot will last approximately 30 days.