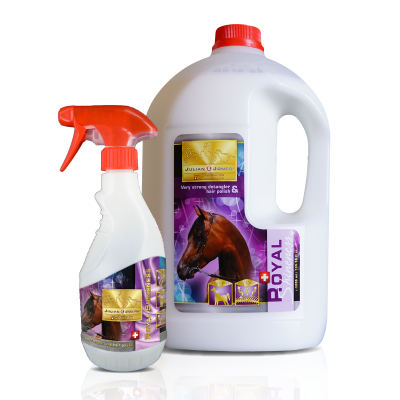 Long-lasting detangler and coat shine. 2 products in one.
A long-lasting and strong detangler with a soft flower smell, uniquely formulated by Julian&Jones as an unsurpassed multi purpose grooming aid.
It coats each hair shaft to keep manes and tails tangle-free. The coat becomes smooth and sleek, accentuating the body tone and definition. 

It also repels dust, dirt, and stains, keeping your horse clean longer. It intensely protects the hair.
As detangler: Spray ROYAL SHINENESS on the tail and mane, let dry and then comb.


As coat shine: Spray ROYAL SHINENESS on the coat. Allow product to settle. After drying, polish with a cloth.
Contraindications
: only for external use.
Packaging : 500 ml or 3L